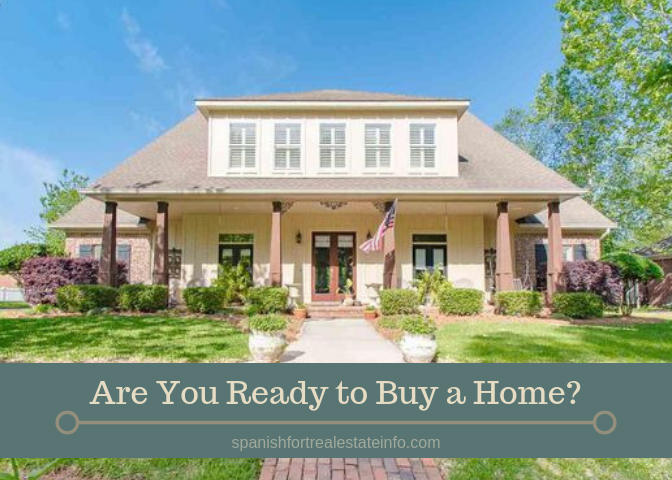 Unlike going out to Sam's Club to buy a new lawn mower or flat screen tv, the thought of buying a new home is a very personal decision that takes an enormous amount of planning and timing. There are so many intangible and tangible "things" to take into consideration but only you can answer the question…..
Are Ready to Buy a Home Now?
You may be buying a home for the first time or working on your 10th real estate deal. In either case, the process is the same and it requires a great deal of decision making, emotional pull, and research.
You may have been renting for awhile or just need a change of scenery, finding yourself trolling through dozens of listings online. It's always interesting to look at other properties for sale but in the back of your mind you have a nagging urge to make a move.
Are you ready to make a move?
In addition to your personal readiness like available cash, credit, and how much you can afford, you also have to think about overall real estate conditions in your area. The following should put you a little closer to knowing if you're ready to pull the trigger on a new home or wait a little longer to be totally prepared.
Ask Yourself These Questions to Find Out If You're Ready to Buy a Home Now….
How much can you afford each month?
Will you have to compromise in some areas in order to stay under a certain price point?
What are your needs and wants? Can you get all of your needs? Write them down.
What are the costs to buying a home? For example, how much will you have to pay for a down payment, closing costs, and inspections?
What is the total cost of owning a home? Online mortgage calculators only give you principal and interest but you will also need to figure in taxes, insurance, utility costs, and maintenance.
How long do you plan on living in your new home? Will you stay there long enough for the home to appreciate?
Are you in a buyer's market or seller's market? Will you be able to get under the asking price or pay over it?
What is the real estate trend in your area? You'll have to get with a seasoned Realtor to get an educated opinion on supply and demand for the area.
Do you see home prices going up or leveling off? Will you miss out on lower prices if you wait 6 months to buy?
If you're currently renting, how does your current monthly housing cost compare to buying a home? A Realtor can help you with this.
How does personal considerations like new additions to the family or your employment factor into your next home?
A Look at the True Cost of Owning a Home
Depending on your area of the country, it might be cheaper to own a home than it is to rent one, or vice versa. Here are typical costs that come into play when owning a home. You be the judge to see if it's financially worthwhile to buy a home now.
PITI – Principal, Interest, Taxes, and Insurance (otherwise known as the dreaded mortgage payment) will make up the bulk of your housing expenses of course. Most home owners utilize a conventional loan that is fixed so the principal and interest portion of the bill will remain the same over the life of the loan.
Taxes and insurance can and probably will fluctuate over the course of your loan.
Again, don't forget, if you're using an online mortgage calculator, you are only getting results for principal and interest. You can contact your local Realtor for help on the cost for taxes and insurance.
Utility Costs – While electricity, water, trash, sewer, cable, and internet are bills that you are probably already paying, they may differ if you're wanting to buy a home with more square feet.
In most cases, your Realtor should be able to obtain current utility bills for any home that you're interested in. All they have to do is ask.
Pest Control – Here's a cost that tends to be placed on the back burner but is so important. We can't get away from those little buggers so having an annual termite inspection and bond on your home will protect you from huge potential costs down the road.
Lawn Care – Well, if you're renting a single family home you'll have this expense anyway but you will for sure when you decide to buy. The last I checked, paying for someone to take care of your yard is pricey, so unless you're doing it yourself, take this cost into consideration.
Exterior Upkeep – You won't be able to just call your landlord anymore. All homes break down over time so be sure to stay on top of things before they turn into enormous hits to your wallet. Typical exterior maintenance projects include:
Power washing the house, decks, sidewalks, and driveways
Painting trimwork and doors
Sealing concrete surfaces
Replacing the roof
Cleaning the gutters
Interior Upkeep – It's up to you now to cover any issues that have to do with the electrical system, plumbing, and appliances. Although home maintenance usually isn't high on the list of things to do on your day off, it sure does help to tackle potential problems before they become overwhelming.
If you're able to, consider buying new construction. Not only will you have a structural warranty (typically) but you will also have manufacturer warranties for all brand new appliances that were installed.
Buying a home will take knowing that you are personally ready but it will also involve working with a team of pros that include a great Realtor, lender, accountant, and/or financial planner.
Additional Resources for Being Ready to Buy a Home: