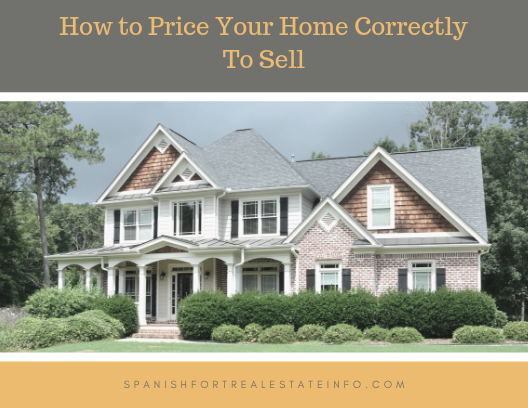 Guidelines to Pricing Your Home Right
Let's face it, no one likes to see their home sit on the market while other properties are going under contract left and right. If you're in a steady real estate market and your home isn't moving, it probably has something to do with your sales price.
Buyers are more conscious about value today and they have the tools at their fingertips to figure out if a home is priced too high. One of their biggest tools is a buyer's agent. A buyer's agent is a Realtor who doesn't represent the seller in a transaction. A really good buyer's agent will know the pulse of the real estate market and will advise their buyer on what kind of offer to write. If you're home is priced too high, the buyer will more than likely know it.
So, how do you price your home correctly?
Know the Numbers
In order to determine the right listing price, you'll have to dig into the recent historical data for your area. Your listing agent should do this for you by the way. History doesn't lie and by looking at past sales, you'll be able to tell the mood of the market. Here's what to study…..
Comparable Is Key
An appraiser is going to look for sold properties that are most similar to yours when establishing a value. So, you and your Realtor should do the same thing. Look for properties with similar square feet. Ideally, this value should be no more or less than 10% of the square footage of your home. You also want to find homes that have a similar number of bedrooms and baths. For instance, if two homes both have 2,400 square feet but 1 home has 3 bedrooms while the other offers 5 bedrooms, this wouldn't be a good match. The rooms in the 5 bedroom house will be much smaller making this not an ideal comparison.
A comparable property is also one that is located within a close proximity of the subject property. Furthermore, a comp that is located within the same neighborhood is even better. Buyers do choose homes based on neighborhoods which explains why you could have 2 neighborhoods across the street from each other but have 2 different price points. Buyer demand drives up price.
Next, you have to find properties that have most recently sold. You're looking for the pulse of the market now, not what it was like a year ago. Comparable homes that have sold within the last 60 days are the most ideal – the latest the better.
Finally, the year that the house was built will play a huge role in value. Homes are just not built the same way that they were even 20 years ago. Make sure to compare apples to apples.
Now that you know what characteristics to look for in a comparable, here's where to find them…
Sold Homes
Well this is obvious, isn't it? However, there's more to discover. Get with your Realtor to explore which homes started at a higher list price but ended up reducing their price one or more times. Checking out price reductions of homes that have sold is a great little piece of information. If it's a recent sale (which it should be, right?), you will probably have the same result if you price your home as they did. Save yourself some time and energy by pricing your home correctly on day one.
Pending Sales
These are homes that have gone under contract but have not yet closed. You won't be able to determine the final selling price until closing, however, you are equipped with the knowledge that the property attracted a buyer at the posted list price.
I periodically send my sellers a report of homes that have just closed or gone "pending". We can then ask ourselves, "Why are these properties moving and mine isn't?".
Expired or Withdrawn Listings
Here's another group of listings that most people don't think about when trying to correctly price their home. If a listing expires or has been withdrawn, chances are the price is too high. You have the opportunity to still look at these properties with the help of your Realtor to determine if the home is comparable to yours. You can look at pictures and the write up to see if there are any updating problems, decor issues, or disarray that caused the home not to sell.
Again, if a comparable home isn't selling you shouldn't price yours as they did since you'll likely get the same result.
Homes On the Market
Believe it or not, this is a great group of properties to study. If you think about it, this is your competition. Look at the number of days that these homes have been on the market. This is great information!
If you price your home similar to theirs, you are likely to get their same result unless your property stands out. Put yourself in the buyer's shoes.
Better yet, when pricing your home, put yourself in the same mindset as you'll be when you buy your next home.
The Takeaway
Pricing your home correctly from the start will create excitement in the marketplace and relieve yourself of any undue stress. Having a property go stale on the market is no fun and benefits no one.
This whole article points to one important fact….
Home buyers determine value!
What doesn't determine value includes:
what you initially paid for it
how much you owe
how much you need from the sale
what your neighbor thinks
what some Realtors think
what Zillow says
Buyers always determine value! So get with your Realtor, do your homework, and stay off the hamster wheel. You'll be successful and hit your goal of selling your home.
Additional Resources for Pricing Your Home: