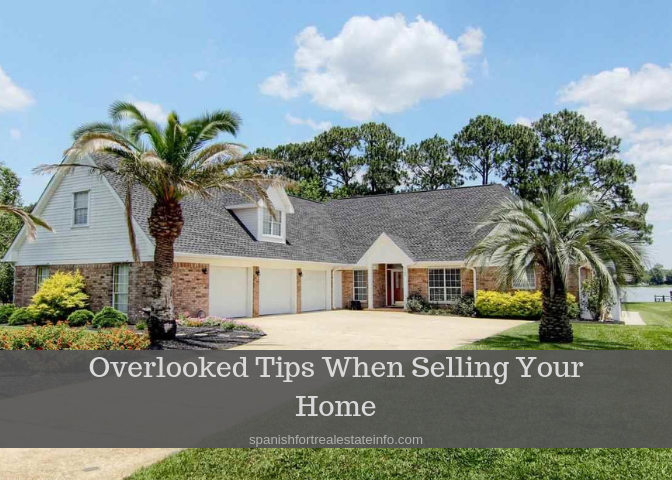 Selling Your Spanish Fort home can be a little overwhelming, especially when you have to compete with all of the new construction that's going on.
In order for your home to stand out, you have to "be on your game" and not miss any details. Here are the most…..
Overlooked Tips to Selling Your Spanish Fort Home
Make the Best First Impression
Besides, you don't get a second chance, right? Trust me, buyers will be scrutinizing your home from top to bottom, inside and out. Take an objective look through your home and think like a buyer.
If buyers notice things that need to be repaired or updated, the cost of these projects will start to add up in their heads. The less you give the buyer to do after closing, the faster you'll find a buyer that will close.
Curb Appeal Is Key
I've written many articles about this subject, like Ways to Improve Your Curb Appeal, but in a nut shell you need to take the time to make your home shine. Sometimes, you may not need to spend a ton of money to make a big difference. Here are a few simple ideas that won't break the bank:
Powerwash the house, sidewalks, decks, and driveway
Paint the front door
Manicure the lawn
Trim the shrubs
You want to bring a smile to the face of the buyer when they pull up to your home for the first time.
Dust and Dirt Has to Go
Yes, it sounds petty but buyers will see everything, even those cobwebs that are at the top of your cathedral ceiling. Put yourself in the best position to sell your Spanish Fort home by doing a thorough clean job before listing your home. Then, once a week it doesn't take to long to make sure that everything is at its best.
Larger Rooms Sell
Well, I'm obviously not talking about taking out any walls. You'd be amazed at how much larger your home will look by removing excess furniture and overall stuff that you're not using. You're going to have to pack it up anyway, so now is a great time. Buyers will love the open space and clean site lines from one area to the next.
Scents and Sounds
Most people like the welcoming feeling they get when they walk into a house that smells nice and has a calming tune playing in the background. This is just one more step you can take to put the buyer in a positive frame of mind while touring your property.
Be sure to stay away from scents that are too overbearing and make sure Ozzy Osborne isn't on the playlist.
Enhance Your Kitchens & Baths
These two rooms represent a whole lot of time that's spent in the house and buyers know this. Be sure to remove as much as you can from the counters (minimizing is the key), including small appliances, toiletries, make up, etc. Replace any missing or cracked caulking around sinks and tubs. Clean, clean, clean.
Allow your potential buyer to focus on the room, not your stuff.
Highlight Your Storage Areas
This is a great time to clean out your closets and dare I say, the garage. Consider having a few garage sales or rent a separate storage unit.
Buyers will want to see ample storage possibilities for their own stuff.
Ahh, the Details
As mentioned earlier, buyers will be picky and notice everything. Walk around the outside and inside of your home and think objectively. Look for loose door knobs, cabinet doors that squeak, cabinet drawers that don't shut right, bad light bulbs, cracks, nail holes, mildew, dirt, etc…
You want to showcase your home at its absolute best!
You're Probably Not Selling a Dungeon
So, let the light in! Open the curtains and blinds to brighten up the place. Buyers love open and bright spaces. You can also go the extra mile by removing the screens in your windows. This allows about 50% more light in.
Most of Us Love Animals, But…
Some people don't love them. Remember, you are trying to create the most positive experience for the home buyer so the less they have to worry about the fact that you have dogs, the better.
Dogs should never be present for showings if at all possible. Also, be sure to repair any damage caused by pets like scratches on doors or chewed up baseboards.
It's best practice to remove all pet toys, beds, and dishes as well.
I realize that selling your home will take some time and work but in a hot market, you need to highlight the great features of your space. The big pay off is you hitting your goal of sitting at the closing table.
If you are wanting to sell your Spanish Fort home, please contact me. With hundreds of closings under my belt, I know the mindset of the buyer. Let's get together to discuss the best way to put a "Sold Sign" in your front yard!