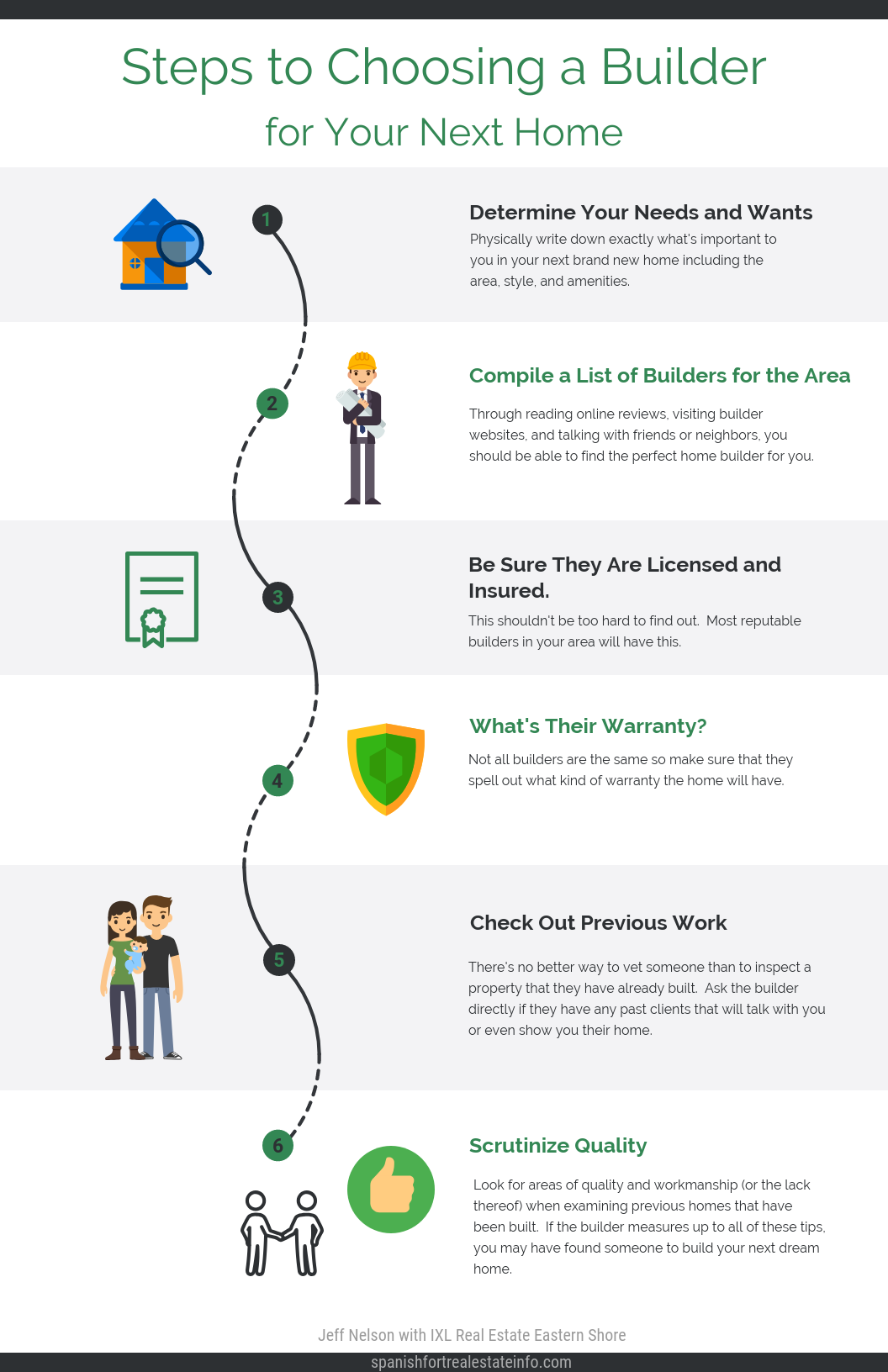 For much of the country, new construction is on the rise so how in the world to you pick the right home builder? You may end up choosing a national company that has set up shop in your neck of the woods or a local custom home builder may work better for you. Whatever the case may be, you should always do your due diligence to vet the company or home builder that will be creating the structure you'll inhabit for years to come.
So, here are the…….
Steps to Choosing a Builder for Your Next Home

Determine Your Needs and Wants
Many home buyers will first have a particular area in mind before actually choosing the house whether it's in a certain school district, the suburbs, or downtown. That's all apart of determining your needs and wants for your next home. It's a great idea to physically write down what you have to have in regard to your next new home and what you're willing to compromise on.
When buying new construction you have many other options to get what you want since the home will be starting from scratch. So, identifying the generalities like the school district, square feet, and number of bedrooms is just part of it. You also need to choose what type of flooring, counter tops, and little extras that you may want. The challenge is choosing what you have to have and what you would like to have, then finding a builder who can deliver it.
To make your life run a little smoother during the home building experience, have a clear understanding of what will be important to you for your new property.
Compile a List of Builders
If your area is anything like lower Alabama, there is new construction going up wherever you turn. So it may seem overwhelming when it comes to choosing a home builder.
If you're buying a home in mid-range prices, you'll probably have options in 2 different categories:
a national builder, like DR Horton or DSLD
a local custom builder
If you're building a higher priced home for the area, you'll likely just choose from a list of local custom builders.
For national builders, gathering information should be very easy as there should be plenty of reviews online. Ultimately, you'll be searching for builders who have vast experience in construction, who deliver what they promise, and provide optimal workmanship. Begin gathering information on builders through online reviews, Facebook community pages, neighborhood community pages, people who already live in a particular neighborhood, and the Better Business Bureau.
Be Sure They Are Licensed and Insured
Surprisingly, in some parts of the country, not all builders have to be licensed but you want to make sure that yours is. Also, find out what kind of insurance that the builder has along with insurance that they require their contractors to have while working on your home. You want to assure yourself that everyone and you are covered during the whole building process
Warranty and Service?
One of the greatest benefits to buying a new construction home is having a warranty. Not only will the actual structure have a warranty but you will likely have all brand new appliances and systems in the house which have their own warranties. While builders can be different, it's typical to have a 2 year warranty on the systems of the house and a 10 year warranty on the structure.
You also want to ask about their service after you close. For instance, I know of a builder here in town that schedules 3 walk through appointments "after" you close. These inspections usually take place in increments throughout the following 12 months to fix any stress fractures, cracks, etc… What service will your builder give you after you close?
Check Out Previous Work
The best way to truly "vet" a home builder is to look for homes that they have already built. Just ask the builder questions like where they have built before. At the very least, you can drive by the properties and in the best case scenario, you could actually speak to the home owner.
Your goal here is to find out the reputation of the builder to see if past clients are satisfied. If you're able to speak to a past client, ask them:
Would you have another home built by this builder?
Would you recommend this builder to your family or friends?
What are the reasons why you would (or wouldn't recommend the builder to someone else?
Another way to check out previous homes is to tour a model home if it's available. Yes, model homes are normally shown in their best light but you can at least get an idea of how well the property was built, especially if it has been there for a few months.
Scrutinize Quality
If you're about to spend hundreds of thousands of dollars for a new home, you should be picky in my opinion. Look for quality of craftsmanship and attention to detail. Look for signs that the builder used quality products and didn't cut any corners. Reputation leaves clues.
How do the people who work for the builder treat you? How do other work sites look while under construction? Are your questions answered in a timely manner and to your satisfaction.
Finally, speaking of reputation, another way to tell about the quality of a builder is to look at re-sale value. See if you can find homes by the builder who are being sold again by the current owner. A good quality home should have appreciated more than a poorly built home. You should have a Realtor working with you anyway when buying new construction but they can easily get you past market data for sales of any property in your area.
Other Resources for Builders and New Construction: