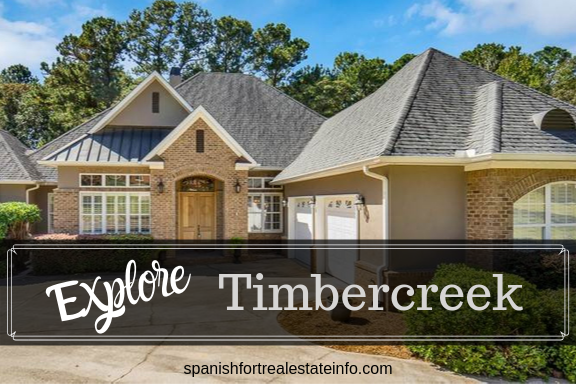 Welcome to the extremely popular neighborhood of Timbercreek where you'll find well-appointed homes, a family-friendly atmosphere, and loads of amenities.
Explore the Neighborhood of Timbercreek

Location

Timbercreek is a very large neighborhood that sits on portions of both Daphne and Spanish Fort. It's situated in a corridor with Interstate 10 to the south, Hwy 181 to the east, and Hwy 31 to the north. Many home owners love the close proximity to major thoroughfares, shopping, and restaurants.
As you can see, the neighborhood is expansive but the community is also heavily wooded providing shade, a wind break, and gives a semblance of privacy.
Real Estate and Homes for Sale in Timbercreek
Timbercreek is an expansive subdivision with over 700 home sites with many different styles and price points. If it's just you and your spouse, there's a place for you. If you have a family of 10, there's something here for you as well.
Homes range in size from 1,444 to 6,798 square feet with bedroom options from 2 to 6. Like I said, there really is something for everyone in Timbercreek. While construction first began in the mid 90's, construction has continued over the last 10 years with the majority of properties built between 2015 and 2018.
This subdivision isn't "cookie cutter" at all and while you'll mostly find Traditional style homes, you'll also see:
Contemporary
Cottage
Craftsman
French Country
Mediterranean
Patio Homes
and Ranches
Most are custom built with a unique look all on their own.
Click here to see All Homes for Sale in Timbercreek.
Every time that I show a home in Timbercreek or go on a listing appointment, there always seems to be a common denominator among the properties that I visit. Homes in Timbercreek are generally well-kept and show pride of ownership. The typical property will boast manicured lawns, comfortable outdoor living spaces, granite counter tops, hardwood floors, and custom cabinetry.
Here's some information from the homes that have recently sold here:
Highest price – $782,000
Lowest price – $252,000
Average square feet – 3,073
Average price per foot – $129
Listing to selling price ratio – 96%
Days on the market – 80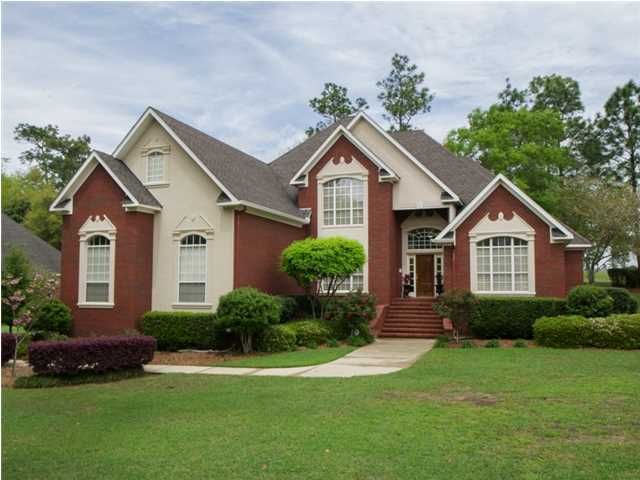 Neighborhood Amenities
The neighborhood amenities in Timbercreek are some of the best in the area, which includes one of the best golf courses in the area. Take a look at what you can do without even having to leave:
2 outdoor pools
Championship golf course
6 tennis courts
Basketball court
Playground
Fitness center
Recreational facility
Community center
Meeting room
Storage area for RV's and boat trailers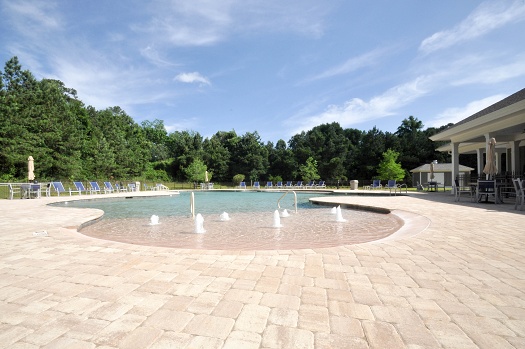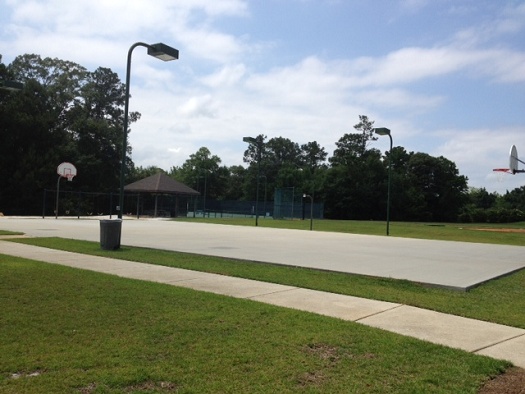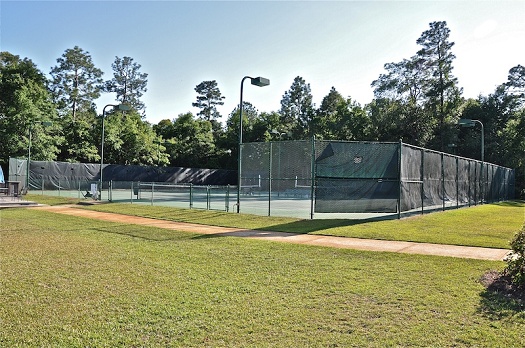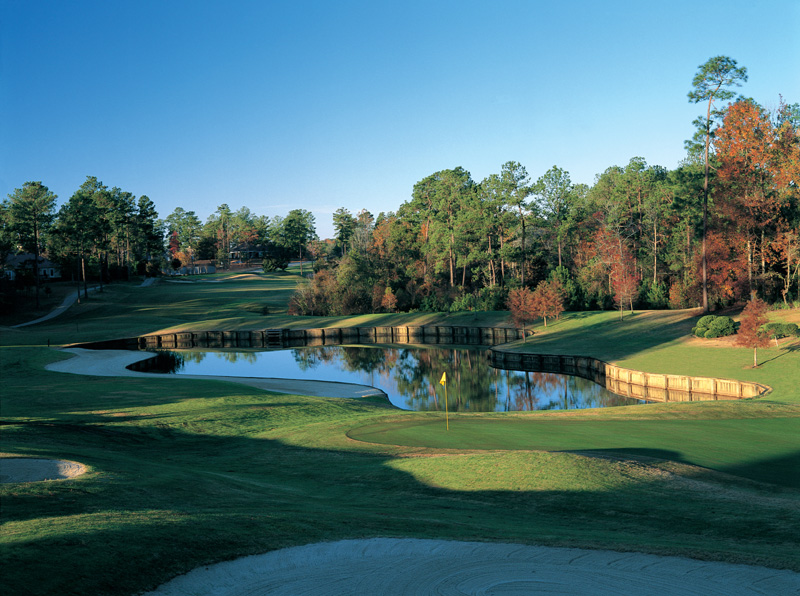 Schools for Timbercreek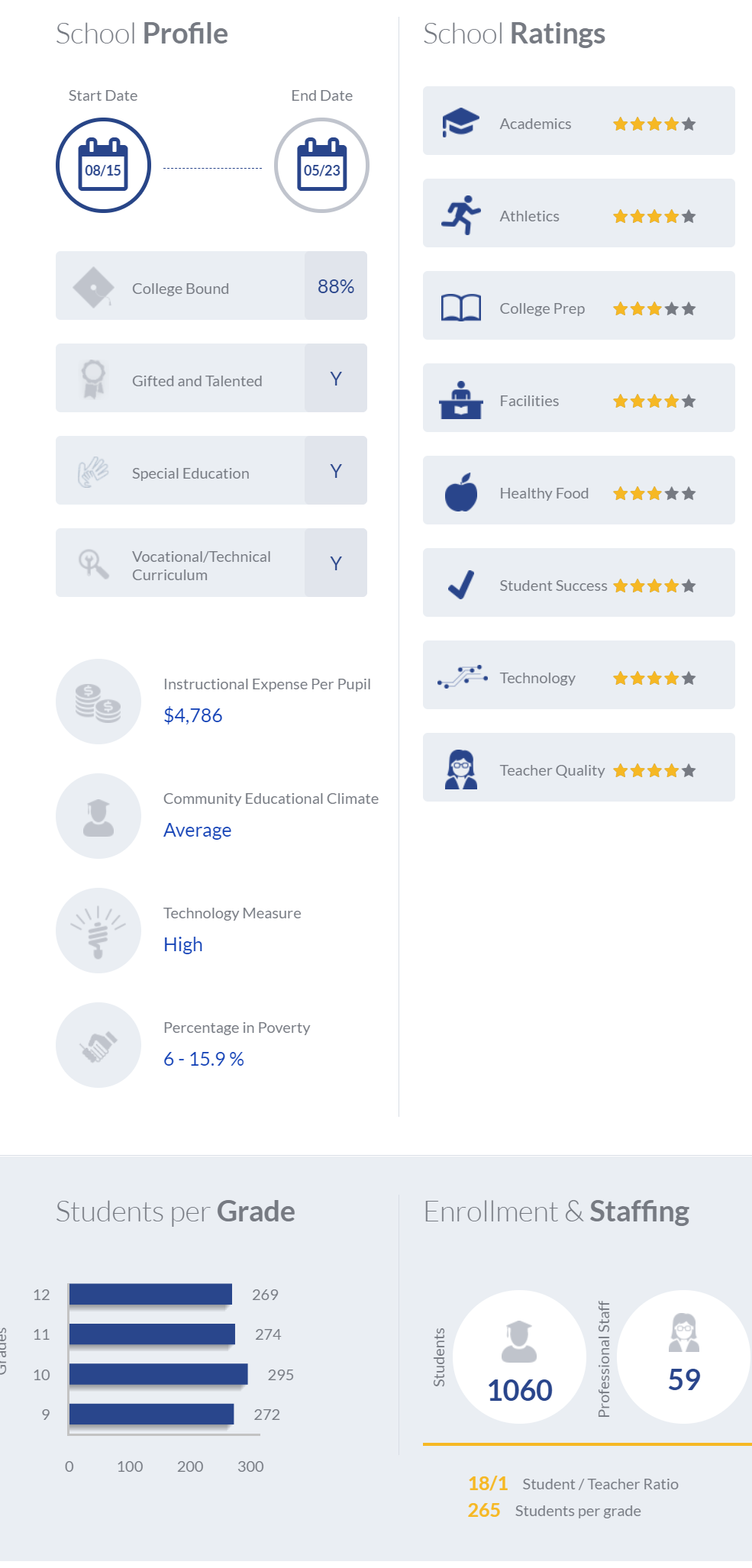 Shopping, Restaurants, & Activities
As I mentioned earlier, Timbercreek is a prime location that puts you within a very short drive of plenty of things to do. Here are a few notable places along with their distance to the middle of the neighborhood:
Rockwell Elementary – 2 miles
Spanish Fort Middle – 4.9 miles
Spanish Fort High – 2.5 miles
Sam's Club – 2.7 miles
Lowe's – 2.6 miles
Publix Grocery – 2.3 miles
Cracker Barrel – 2 miles
Eastern Shore Town Center – 1.8 miles
There are also a number of restaurants located on the other side of Spanish Fort on the Causeway. Here's a list along with their distances from the neighborhood:
Felix's Fish Camp – 8 miles
Blue Gill – 5.6 miles
Original Oyster House – 5.7 miles
R & R Seafood – 8 miles
Ralph & Kacoo's – 7.8 miles
Cafe Del Rio – 8.3 miles
Ed's Seafood Shed – 6 miles
Tropics – 3.4 miles
One of the main shopping hubs for the entire area happens to be right across the street from Timbercreek – The Eastern Shore Centre.
If that wasn't enough options for you, Timbercreek is also located just a few miles away from Spanish Fort Town Center which offers a Bass Pro Shop, Kohl's, JC Penny's, and more.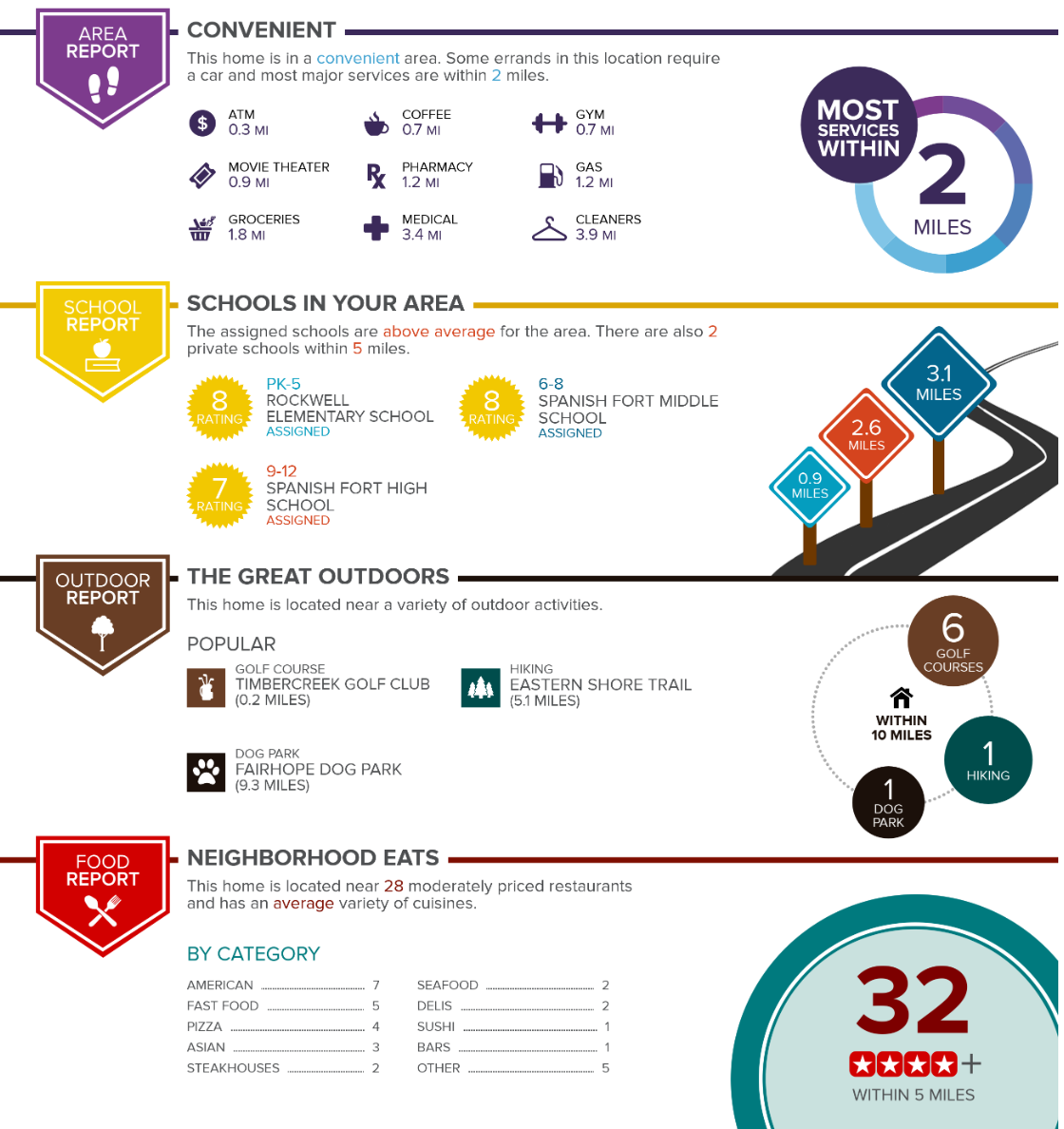 Besides the many activities that can keep you busy in the area, Timbercreek is a great place to run or walk. The community boasts wide streets, sidewalks, and street lamps that will provide a safe environment while you get your exercise in for the day.
Here are some other things to keep you busy without leaving the area.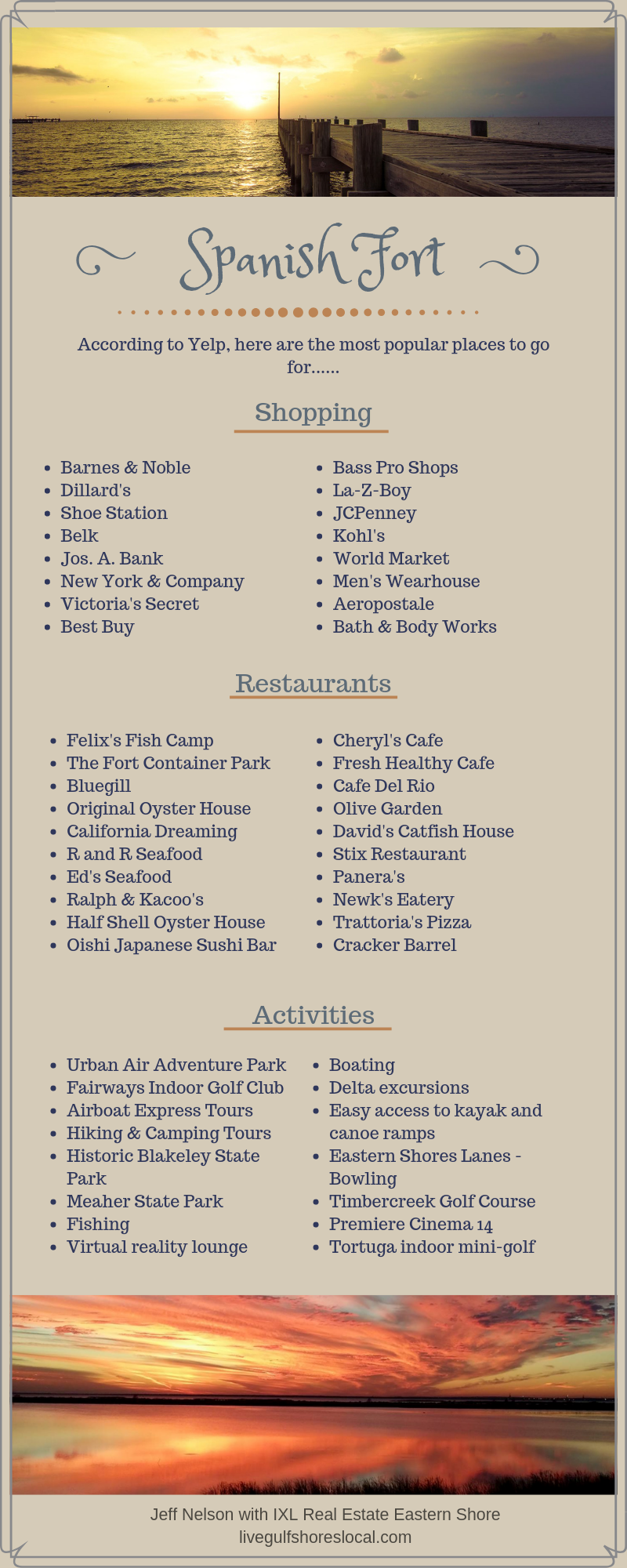 IMPORTANT SPANISH FORT WEBSITES:
Spanish Fort Community Report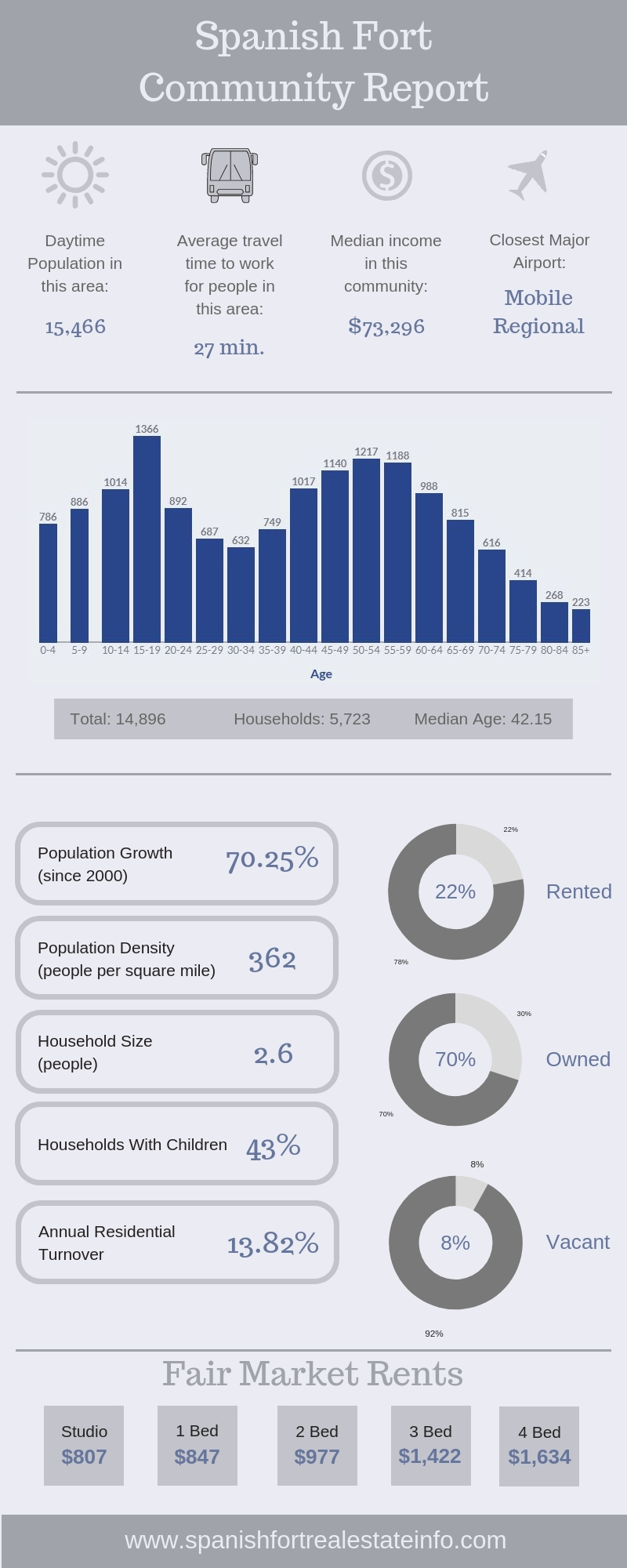 If you are buying or selling a home in Timbercreek, please reach out to me. I'd love to share my experience with you.