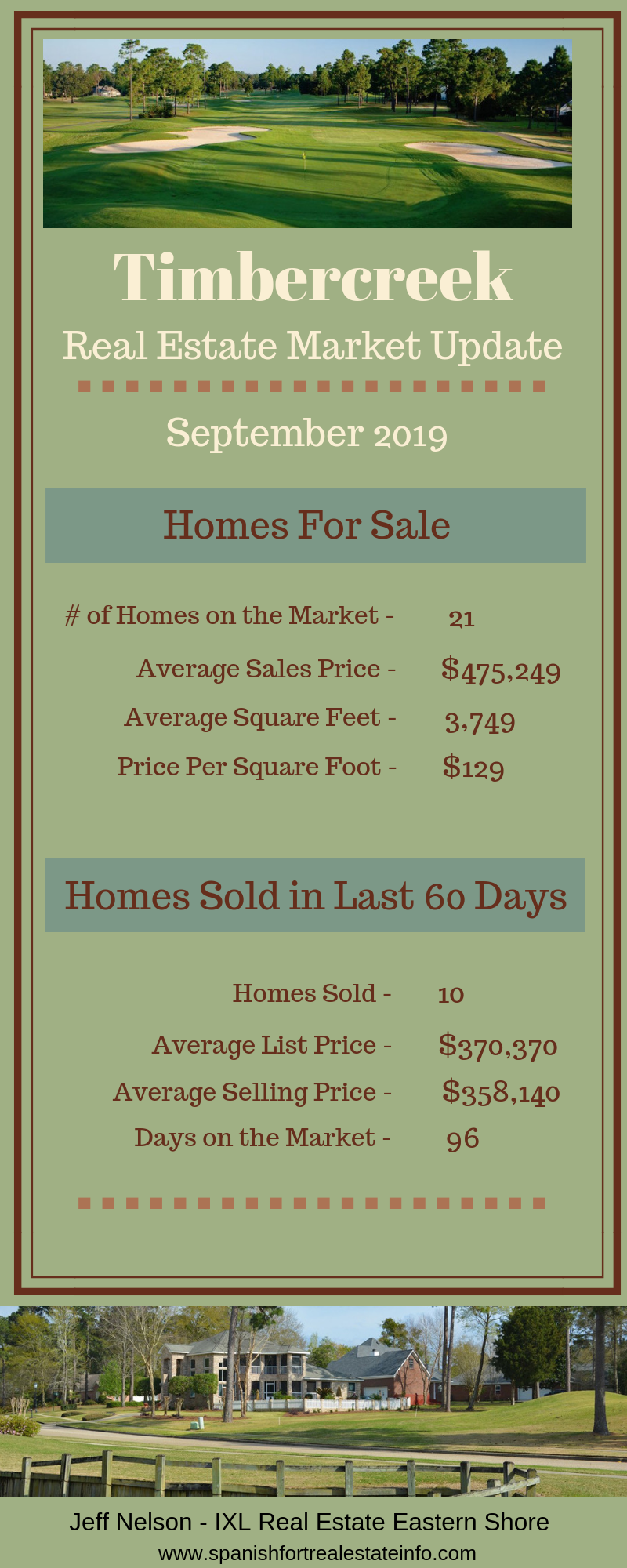 Timbercreek Real Estate Market Update – Sept 2019
Timbercreek is a highly desirable neighborhood that is located in the cities of Daphne and Spanish Fort. You'll find a wide mix of home styles and prices in this neighborhood so there certainly is something for everyone.
As your go to "Lower Alabama" Realtor, I love to provide real estate market data for certain neighborhoods in Baldwin County and Timbercreek surely makes the list of neighborhoods to watch.
Here you will find the most up to date stats for homes that are for sale and those that have sold. These figures are especially interesting if you're thinking of either buying or selling a home in this great neighborhood.
Homes for Sale in Timbercreek
There are 21 homes for sale in this large neighborhood ranging in square feet from 1,996 to 8,785. The highest priced home is $985,000 and the lowest is $272,000. You'll find home options with 3 to 6 bedrooms. The average price per square foot is currently $129 and the average days on the market is 89.
To learn more about this impressive subdivision, please visit Homes for Sale in Timbercreek.
Homes That Have Sold in Timbercreek in Last 60 Days
This neighborhood is quite large and very popular. It's typical to have multiple sales here every month. Well, the last 60 days didn't disappoint with 10 homes selling.
For the properties that sold, the largest home was 5,135 square feet and the smallest offered 1,895 square feet. The most expensive home sold for $590,000 and the least expensive sold for $252,000. The average price per foot was $128 and the days on the market was 96.
For the last couple of months, the average listing to selling price ratio was 96%, meaning that on average, buyers were able to obtain a price that was 4% less than the asking price.

This monthly report is provided to give you the most information possible to help you make an informed decision whether you are buying or selling.
If you're in the market to buy or sell in Timbercreek, please reach out to me.