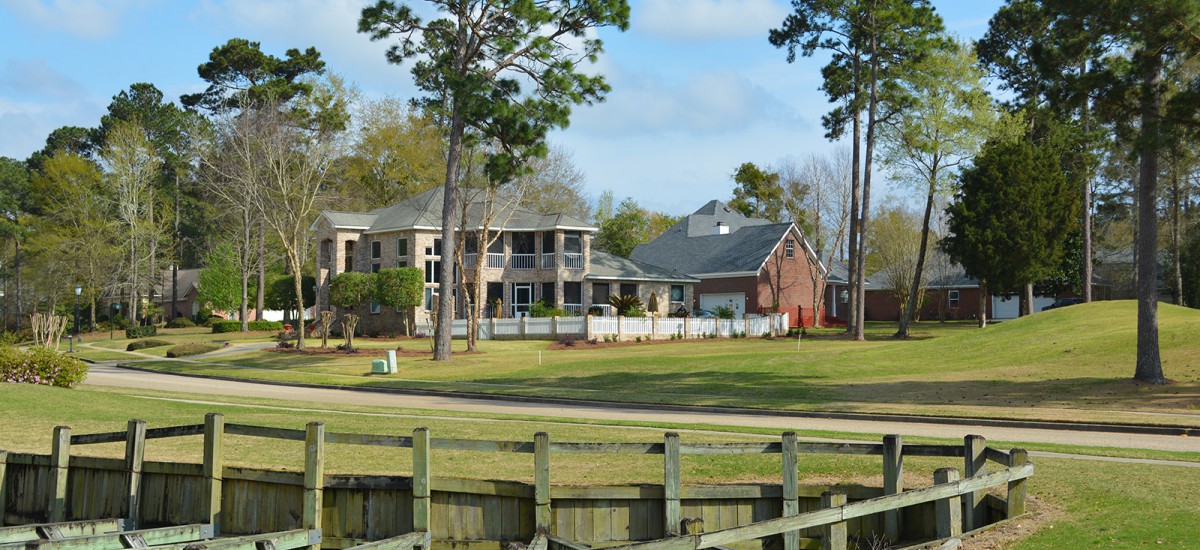 As a Spanish Fort Realtor, I represent buyers and sellers of the beautiful neighborhood of Timbercreek. Below you're going to find extensive real estate information, what it's like to live there, and community reports.
At the bottom of this page, you'll find all of the available homes that are on the market in Timbercreek. Please contact me if you need additional information or if you would like a private tour of any of these properties.
If you ask any of the locals, "What is the best neighborhood on the Eastern Shore?", many would say Timbercreek. Timbercreek is a picturesque community that is situated near the crossroads of Hwy 181 and Interstate 10. Well, that's the main entrance. There's another entrance off of Route 31. The neighborhood is well-appointed with lush landscaping and shares its space with Timbercreek Golf Club, a 27 hole championship course.
Residents are afforded a high quality of life while living among neighbors who seem to have an overall appreciation of maintenance and upkeep. While there are many different types of homes, each property tends to look just as good as the one next door. Living in Timbercreek will give you easy access to major highways as well as the plethora of shops and eateries that are just minutes away. You'll read more about that later on down the page.
If you want to live in Spanish Fort and you're in the market for a great neighborhood with an idyllic atmosphere, you should definitely take a hard look at Timbercreek.
Real Estate and Homes for Sale in Timbercreek
Timbercreek is a very large neighborhood with well over 700 home sites and actually occupies sections of both Daphne and Spanish Fort. The community was first developed in the early 90's but to this day, there are still brand new homes and lots available.
Timbercreek includes properties with a wide range of styles, sizes, and price tags. House hunters could very well see homes anywhere from 1,400 square feet to nearly 7,000 square feet.
Look to the bottom of this page to see the homes that are for sale right now.
As you can see, the neighborhood is expansive but the community is also heavily wooded providing shade, a wind break, and gives a semblance of privacy.
You'll find a balanced mix between homes with 2 stories and those that are Ranches. Although you may find a Contemporary style here or there, the main home styles in this neighborhood will be Traditional and Craftsman. With that being said, this is not a "cookie cutter" neighborhood where every home looks the same.
Most are custom built with a unique look all on their own.
Every time that I show a home in Timbercreek or go on a listing appointment, there always seems to be a common denominator among the properties that I visit. Homes in Timbercreek are generally well-kept and show pride of ownership. The typical property will boast manicured lawns, comfortable outdoor living spaces, granite counter tops, hardwood floors, and custom cabinetry.
As far as pricing goes, there is literally something for everyone here. Here is the real estate activity for the last 90 days.....
Market Report for Timbercreek:
| | | | |
| --- | --- | --- | --- |
| Homes Sold | Ave. Selling Price | Ave. Square Feet | Price Per Foot |
| 15 | $356,349 | 2,877 | $126 |
The lowest priced home sold for $185,000 and had 2 bedrooms with 2 full baths. The highest priced home during this period sold for $470,000, had over 4,300 square, and offered 5 bedrooms with 4 full baths.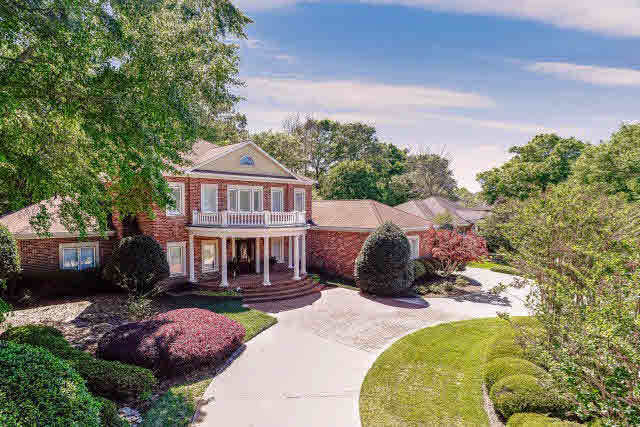 Timbercreek Amenities
You'll love the family friendly atmosphere of this community which includes an impressive amenity package for residents and their guests. Not only do you have the Timbercreek Golf Club that's open to the public but you will also find the following amenities:
2 outdoor pools
Basketball court
Tennis courts
Fitness room
Pavilion
Playground
Community Center
Meeting room
Storage area for RV's and trailers
Read more details about Timbercreek Amenities here.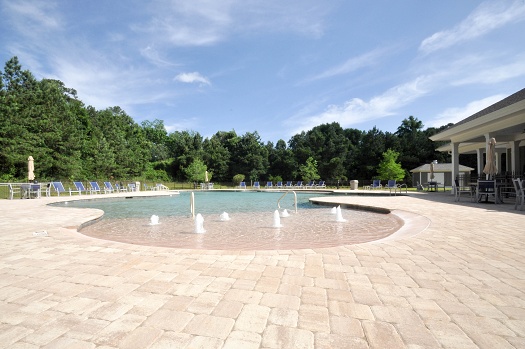 Living in Timbercreek
Living in this great community will put in the direct proximity of a myriad of shopping options, restaurants, and activities.
Shopping & Restaurants
One of the main shopping hubs for the entire area happens to be right across the street from Timbercreek - The Eastern Shore Centre. Here's a snapshot of what's available to residents that is literally less than a mile away from the main entrance of the neighborhood: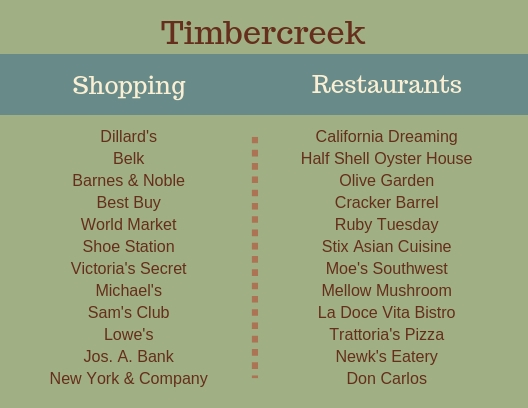 and much more........
There are also a number of restaurants located on the other side of Spanish Fort on the Causeway. Here's a list along with their distances from the neighborhood:
Felix's Fish Camp - 8 miles
Blue Gill - 5.6 miles
Original Oyster House - 5.7 miles
R & R Seafood - 8 miles
Ralph & Kacoo's - 7.8 miles
Cafe Del Rio - 8.3 miles
Ed's Seafood Shed - 6 miles
Tropics - 3.4 miles
If that wasn't enough options for you, Timbercreek is also located just a few miles away from Spanish Fort Town Center which offers a Bass Pro Shop, Kohl's, JC Penny's, and more.
Schools
Because the neighborhood stretches into Spanish Fort and Daphne, both school systems will apply. The good news - both public school systems are ranked high and above average according to greatschools.org.
There is talk that kids from the entire neighborhood of Timbercreek will go to Spanish Fort but that isn't set in concrete yet.
Activities & Things to Do
Besides the many activities that can keep you busy in the area, Timbercreek is a great place to run or walk. The community boasts wide streets, sidewalks, and street lamps that will provide a safe environment while you get your exercise in for the day.
Here are some other things to keep you busy without leaving the area.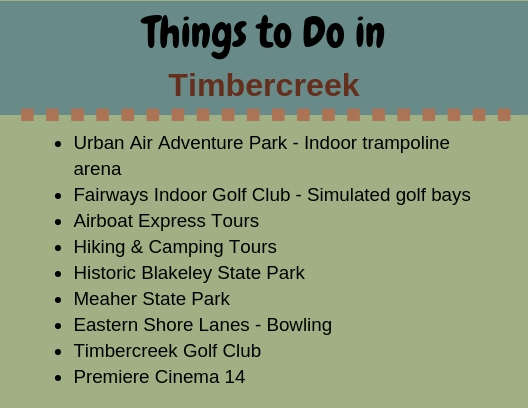 See All Timbercreek Homes for Sale Below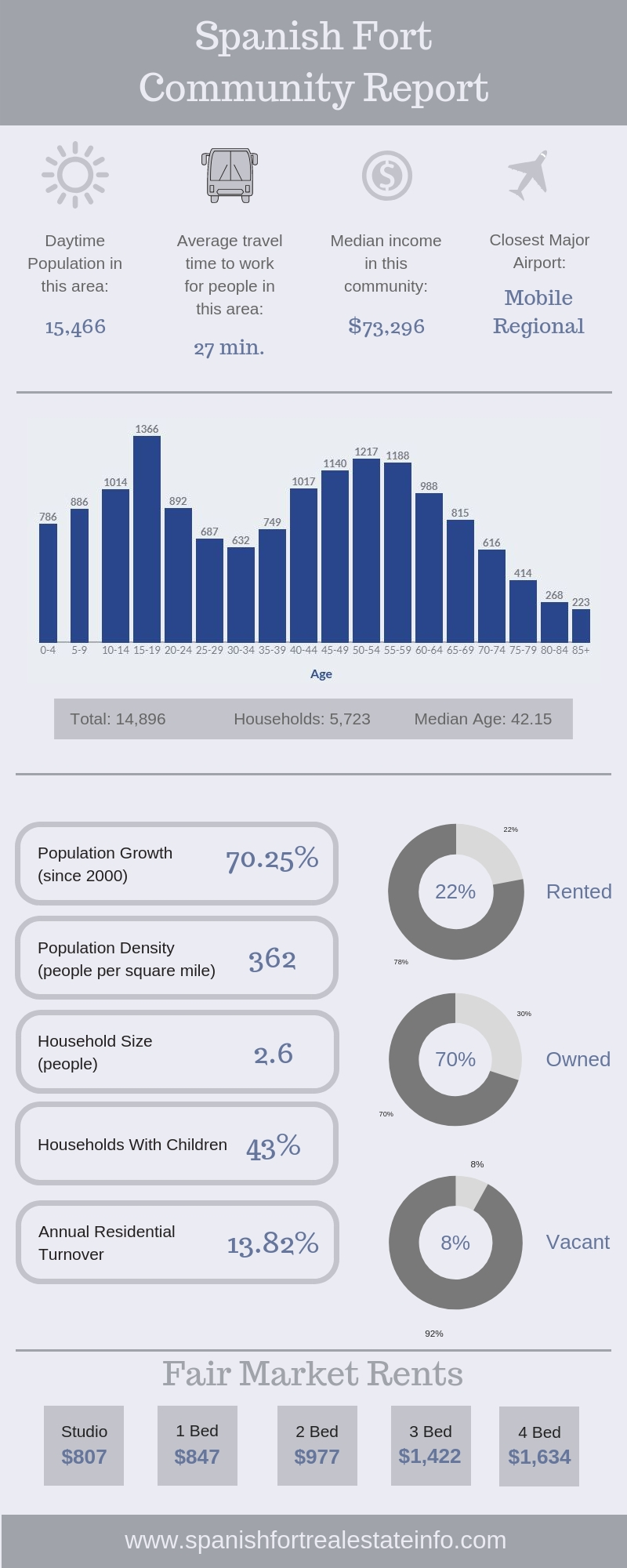 Do You Want to Learn More About Timbercreek?
I hope you found this information helpful! If you need more details about the neighborhood or any of its homes for sale please give me a call or send me an email. I sell real estate for a living and have been for about 13 years. I would love to talk with you about your real estate needs.