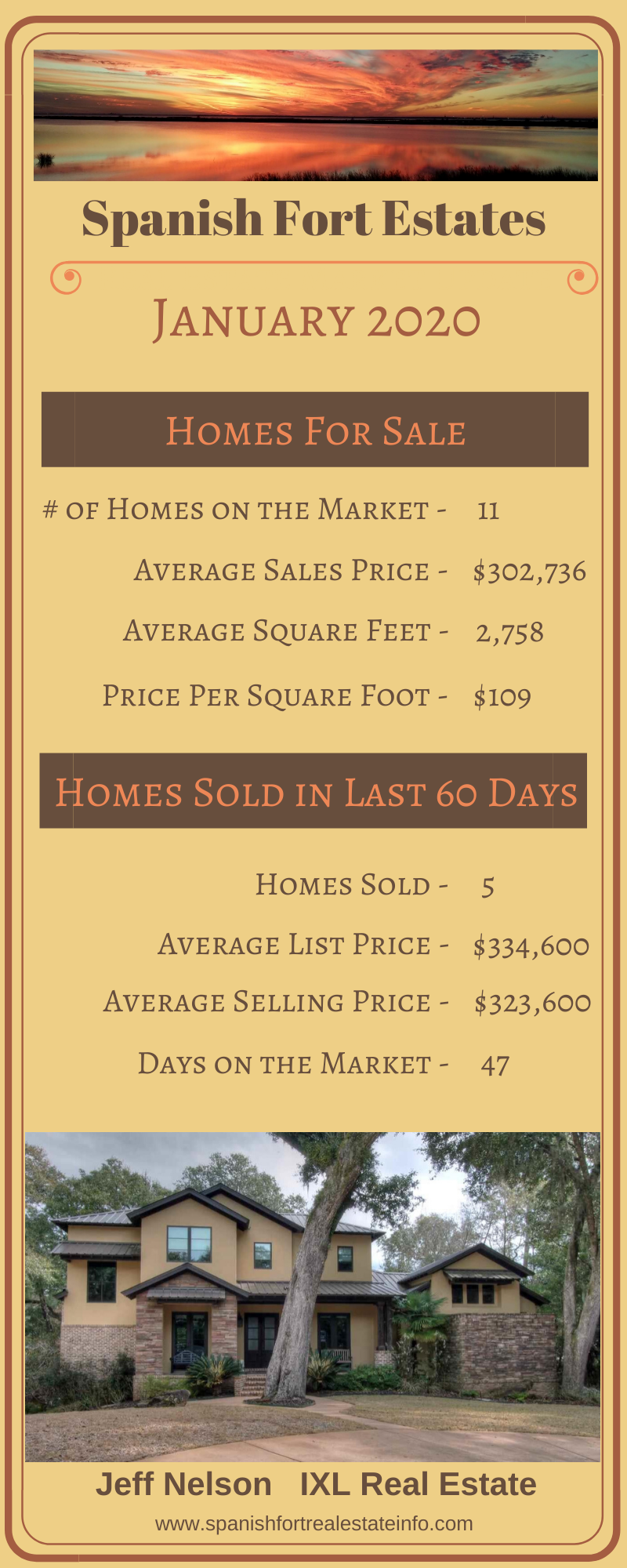 Welcome to the real estate update for Spanish Fort Estates! Every month you'll find market data for all of the homes that are for sale as well as those that have sold in the last 60 days.
Spanish Fort Estates is a large neighborhood that sits between Hwy 225 and the deltas that flow into Mobile Bay. You'll find a wide mix of properties here including new and older homes, small and large floor plans, and a variety of different styles and prices.
In the above infographic you can see that Spanish Fort Estates remains active in the real estate market. 5 homes sold in the neighborhood in the last 60 days which is pretty good activity for the winter months.
The highest priced home that sold was $539,000 and the lowest was $224,000. For the past 60 days the average price per square foot was $122 and the average listing to selling price ratio was 96%. This means that, on average, buyers were able to successfully realize a sales price that was 4% lower than the original list price.
3 of the 5 homes that sold were under $250,000.

As you can see from the above image, prices in the neighborhood have risen steadily over the past few years with home values increasing 10.09% since 2016.
Are you thinking about buying a home in Spanish Fort Estates? Give me a call or visit the main real estate page for the neighborhood. Here you'll find more information about Spanish Fort Estates as well as a list of all of the homes that are currently on the market.
If you already own a home and want to sell, I'd love to share with you what I can do to get your home sold. First of all, the site that you're on right now is one of the largest real estate websites in the county and will be a crucial key to giving your property maximum exposure.
Jeff Nelson
IXL Real Estate – Eastern Shore
251-654-2523
jeff@livegulfshoreslocal.com