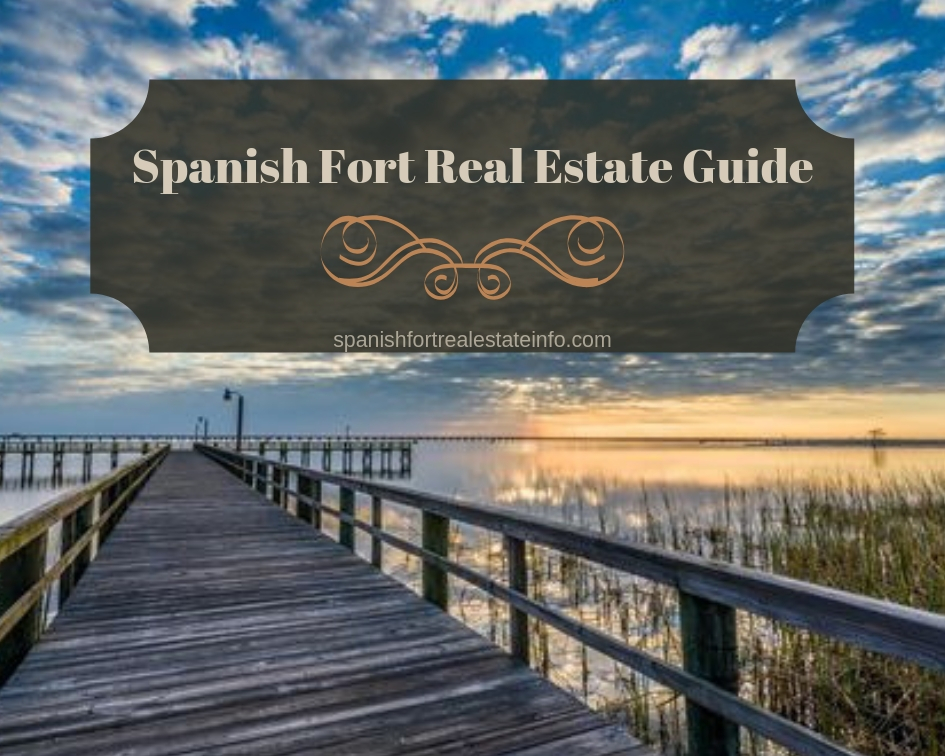 The following information about Spanish Fort and its real estate market is brought to you by Jeff Nelson of IXL Real Estate – Eastern Shore.
If you have any questions about the real estate market or the community, I'd love to hear from you. Yes, there's a lot of information on this page but I want to bring value to my current and future clients, giving you a taste of what Spanish Fort has to offer. I've been full time in real estate for over 13 years and I truly have a passion for what I do. So, if you're moving to Spanish Fort from across the country or across town, I know that you will love it here.
With a population close to 9,000, Spanish Fort is the smallest of the 6 major cities of Baldwin County, located east of Mobile Bay, north of Daphne, and about 45 minutes west of Pensacola. According to Wikipedia, the total land mass of Spanish Fort is 34.93 square miles.
Side Note: Spanish Fort was ranked by NerdWallet as the 14th Best Places to Live for Families in Alabama.

Here Are the Topics That Will Be Covered Below:
How's the Spanish Fort Real Estate Market?
Steps to Take For Buyers and Sellers
Popular Neighborhoods
Popular Condos
Housing and Population Statistics
Spanish Fort Climate and Weather
The Economy
Population By Occupation
Spanish Fort Schools
Educational Statistics
Nearby Hospitals and Medical Centers
Spanish Fort Parks
Top 10 Restaurants
Real Estate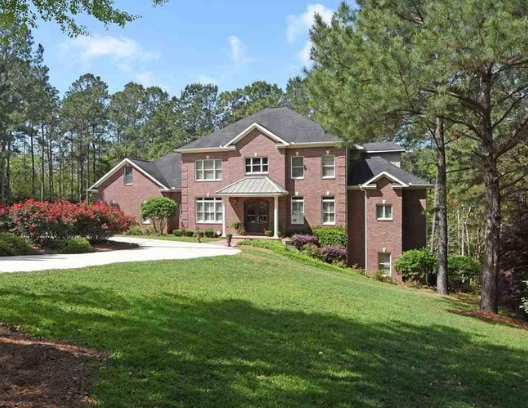 There are several reasons why the Spanish Fort real estate market is experiencing substantial growth and they include affordable home prices, the schools, and its proximity to major highways. One thing that is very attractive is the fact that despite its continued growth, Spanish Fort has been able to maintain its "small hometown feel". The locals are warm and inviting, always willing to lend a helping hand.
The city was only incorporated in 1993 but the demand to live here really took off about 10 years ago, which attracted new developments to meet that demand. If you do a random search for homes that are on the market in Spanish Fort today, you will probably notice that most of the properties are either brand new or just a few years old.
While you will find various home styles like traditional, cottage, and Mediterranean styles, the craftsman style seems to be the trend now. Open floor plans, tall ceilings, and granite are very typical in new construction.
Below you're going to see the current real estate statistics for both single family homes and condos in Spanish Fort.
Real Estate Market Conditions
Single Family Homes for Sale
| | | | | | |
| --- | --- | --- | --- | --- | --- |
| # of Units | List Price | Highest | Lowest | Square Feet | Price Per Foot |
| 149 | $348,794 | $1,595,000 | $55,000 | 2,637 | $129 |
Single Family Homes That Recently Sold
| | | | | | |
| --- | --- | --- | --- | --- | --- |
| # of Units | List Price | Selling Price | Highest | Lowest | Square Feet |
| 49 | $303,770 | $290,538 | $675,000 | $110,000 | 2,599 |
Condos for Sale
| | | | | | |
| --- | --- | --- | --- | --- | --- |
| # of Units | List Price | Highest | Lowest | Square Feet | Price Per Foot |
| 6 | $159,733 | $167,900 | $144,900 | 1,426 | $113 |
There's only one condo complex in Spanish Fort.
Condos That Have Recently Sold
| | | | | | |
| --- | --- | --- | --- | --- | --- |
| # of Units | List Price | Selling Price | Highest | Lowest | Square Feet |
| 7 | $159,200 | $154,028 | $156,000 | $144,900 | 1,483 |
The date range used above for "sold" properties was 60 days so that means nearly 60 properties closed within the last couple of months. That's almost 2 closings every single day of the month, which is not too bad for a population of only 9,000 people.
Another important thing to note is the difference between the list price and the selling price for sold properties. According to the figures, buyers realized a lower price than what the seller listed it at.
For single family homes, the listing to selling price ratio was 95%. This means that on average buyers were able to obtain 5% off of the original list price.
For condos this ratio was 96%.
This is why it's so important to have a buyer's agent working with you on your purchase. I know the real estate market in Spanish Fort. When you're ready to buy a home, get in touch with me. I'll go to work with you to get the best possible price.
So how is the real estate market in Spanish Fort?
Although there are nearly 2 closings every day in a relatively small town, we are still in a buyer's market. The market here is strong but it still slightly favors the buyer.

I've written detailed guides on the process of buying and selling a home in Spanish Fort over at our sister website. To prevent this article from becoming to lengthy, I've laid out the steps below but you can click on the following two links to read the entire guides. Both websites are mine so if you have any questions at all, please contact me.
11 Steps to Buying a Home
Determine Your Budget
Work With a Realtor (and that would be me)
Get Pre-Approved For a Loan
What Are Your Needs and Wants?
Finding Your House
Making an Offer
Get Final Approval For Your Loan
Terms of the Contract
Utilities and Insurance
Final Walk Through
Close On Your New Home
Read the full article here, 11 Steps to Buying a Home.
9 Steps to Selling a Home
Making the Decision to Sell
Preparing Your Home to Sell
Hiring a Realtor
Determining a Proper List Price
Marketing Your Property
Home Showings
Negotiating Offers
Navigating the Contract
Closing On Your Property
Read the full article here, 9 Steps to Selling a Home.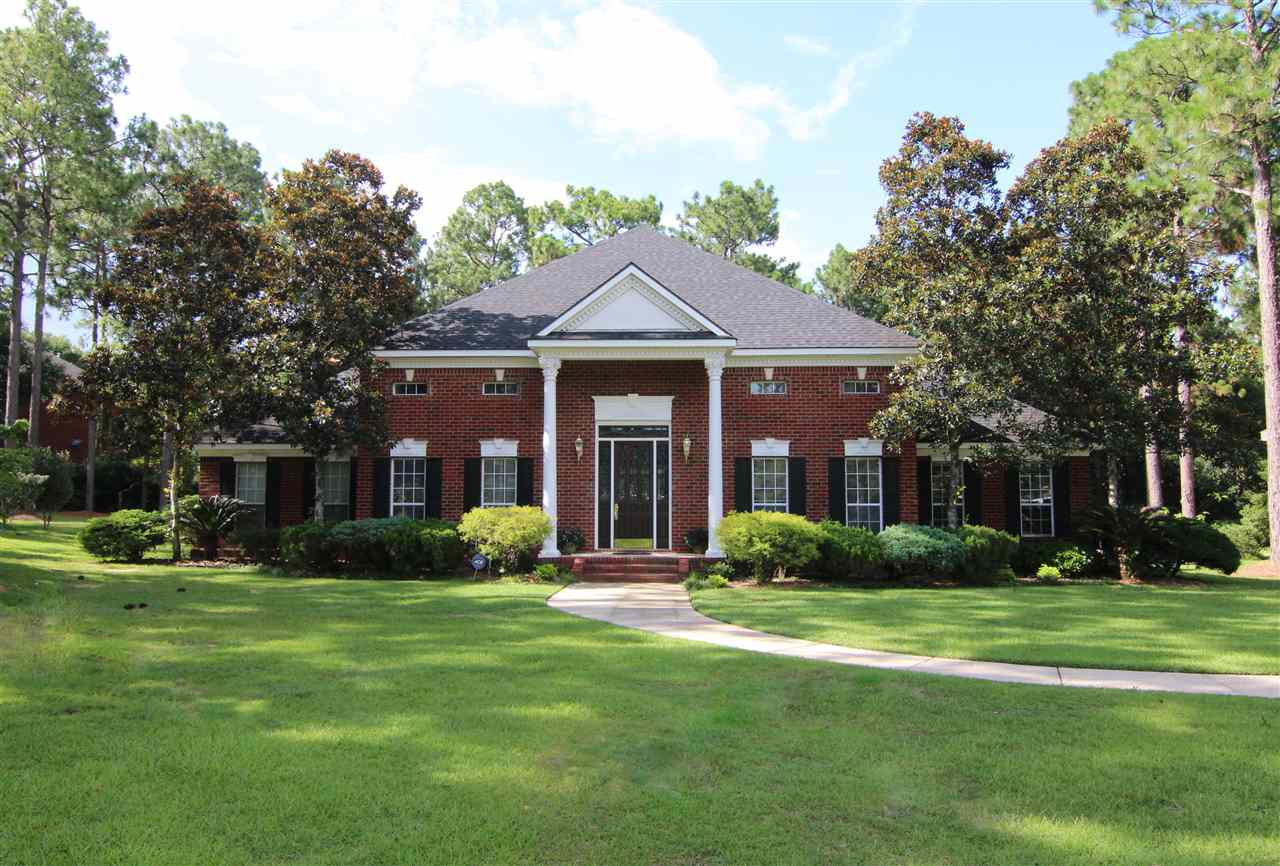 Spanish Fort real estate is exploding with many new subdivisions popping up all over town but the following are the most popular based on recent sales. You can click on the neighborhood links to learn more about that area and to see all of the homes that are for sale there.
Blakely Forest – A desirable neighborhood that is well-appointed and heavily wooded. This area is a little off the beaten path yet still close to everything.
Churchill – You'll find brand new and nearly new homes in the popular neighborhood of Churchill. Average prices fall into the mid $250's which make owning new construction very affordable in a great area.
Grace Magnolias – Here's a popular area that is located off of Route 31 offering new construction around $300,000. You'll find 3 and 4 bedroom homes at an average price per square foot of $129.
Highland Park – Highland Park is an attractive neighborhood in close proximity to Spanish Fort Middle and High School. You'll find mostly brand new construction with 4 and 5 bedrooms.
Rayne Plantation – Most of the homes in Rayne Plantation are large with an average square feet of 3,488. These properties are more on the high end side with an average price per square foot of $164.
Spanish Fort Estates – This large neighborhood is located near the intersection of Hwy 225 & 31. There are many different home styles hear and the price point is at an affordable $105 per foot (on average).
Stillwater – This attractive neighborhood is located down Hwy 225 with large properties between 3,000 and 5,000 square feet. The average price in Stillwater is $567,000.
Stonebridge – Hands down Stonebridge has been the most popular neighborhood in Spanish Fort for months. Located down Hwy 31, you'll find Craftsman style new construction at around $123 per square foot.
To see a list of all neighborhoods in Spanish Fort, visit this link.
See All Homes for Sale in Spanish Fort By Price:
$100,000 to $200,000 – $200,000 to $300,000 – $300,000 to $400,000
$400,000 to $500,000 – $500,000 to $600,000 – $600,000 to $1,000,000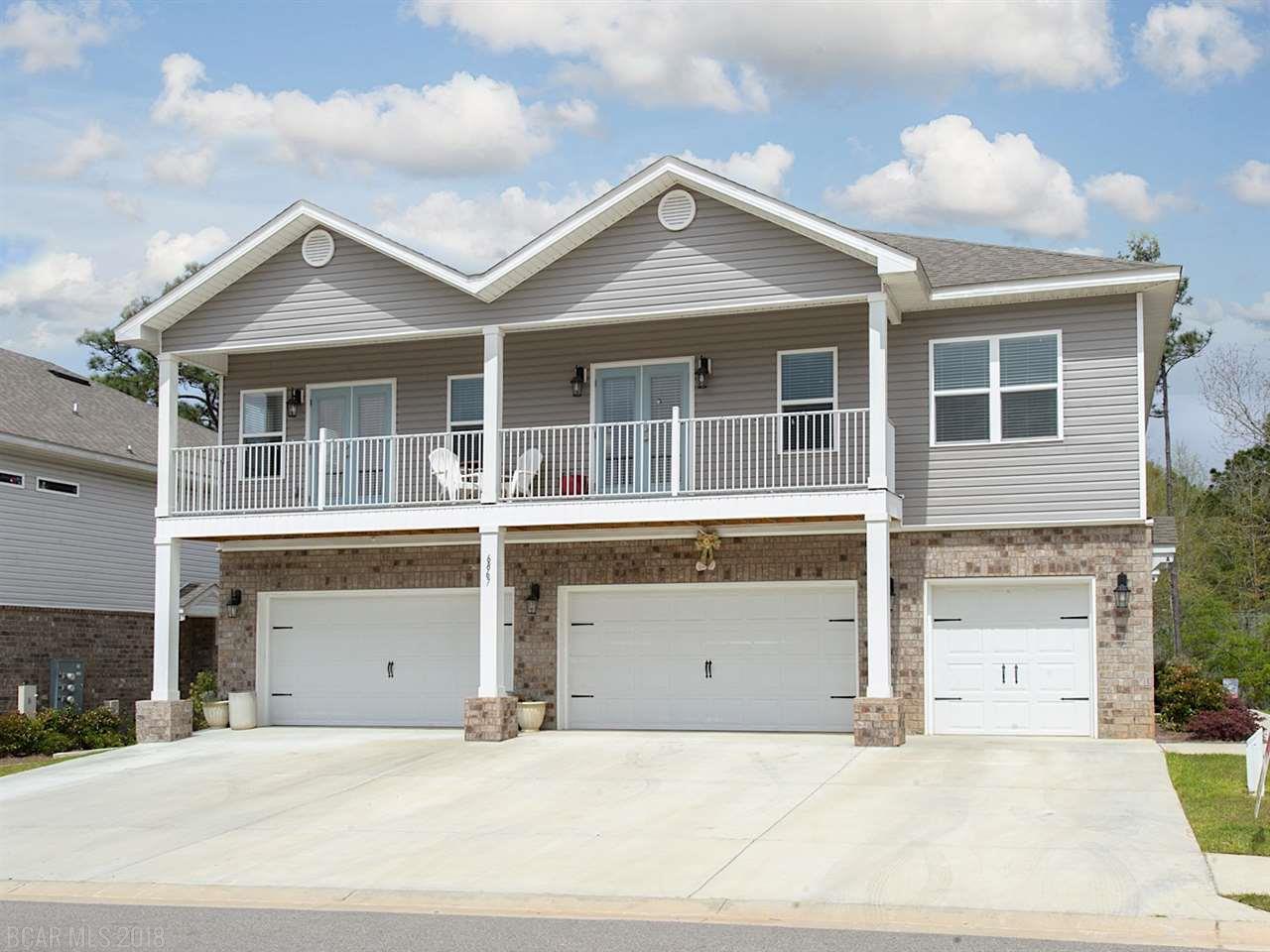 For now, there is just one condo community for Spanish Fort real estate. As you can see from the picture above, these spacious condos have garages which don't see much of in Baldwin County.
Quail Hollow – Owning in Quail Hollow is a perfect opportunity to own new construction in Spanish Fort at very affordable prices – stress free living, close to shopping and the highways.

Of the 6 major cities of Baldwin County, Spanish Fort is the smallest with a population of 8,966, however this number is expected to continue to grow rapidly. The annual growth rate is currently at 5.07%. Population density is just 286 people per square mile. The median age in Spanish Fort is 40.3 and there are 10% more females than men. 53.7% are married.
The overall median household income is $74,731.
Other Real Estate Statistics for Spanish Fort
There are 3,574 households in the city (and growing fast) with just a 1.9% vacancy rate. The median home value is $241,300.
Home appreciation last year was 7.7%.
The hot season in Spanish Fort lasts from May 20th to September 28th with an average high of 84 degrees. The hottest day of the year is July 16th with an average high of 90 degrees.
The cool season lasts from December 2nd to February 26th with an average high of 66 degrees. The coldest day of the year is January 17th with an average low of 42 degrees.
The wet season lasts from June 8th through September 1st with a greater than 41% chance of rain on any given day. The dry season lasts from September 1st through June 8th.
Spanish Fort gets an average of 66 inches of rain a year.
The labor force participation rate for Spanish Fort 65.6% and the unemployment rate is 2.8%.
| | | |
| --- | --- | --- |
| Index | Spanish Fort | National |
| Income per capita | $32,394 | $28,555 |
| Median Income | $81,509 | $65,443 |
| Unemployment | 2.8% | 5.2% |
| Sales Tax | 8.5% | 6% |
The job market has grown 1.8% since last year and is projected to grow 38.1% over the next 10 years.

Construction – 5.1%
Manufacturing – 14.5%
Wholesale Trade – 3.1%
Retail Trade – 15.8%
Transportation & Warehousing – 3.8%
Information – 1.1%
Finance and Insurance – 5.7%
Real Estate and Leasing – 1.1%
Professional, Scientific, and Technical – 6.5%
Administrative – 2.3%
Educational Services – 7.4%
Health Care – 11.7%
Arts, Entertainment, Recreation – 2.0%
Accommodation and Food – 7.1%
Other Services – 2.9%
Public Administration – 7.9%

The Spanish Fort school system is one of the finest in Baldwin County. All of the public schools in the city have an above average ranking by GreatSchools.org.
Spanish Fort High School – One Plaza De Toros (1,109 students)
Spanish Fort Middle School – 33899 Jimmy Faulkner Dr (849 students)
Spanish Fort Elementary School – 30900 Hwy 225 (673 students)
Rockwell Elementary – 10183 Hwy 31 (926 students)

For the residents of Spanish Fort, 19.16% have some college education, 32.05% have a Bachelors Degree, and 13.15% have a Graduate Degree.

There are a number of hospitals and medical centers within just a few miles in Mobile, Daphne, and Fairhope but here is what is available for Spanish Fort:
Springhill Medical Center – 6475 Spanish Fort Blvd H
Eastern Shore Children's Clinic – 9797 Timber Circle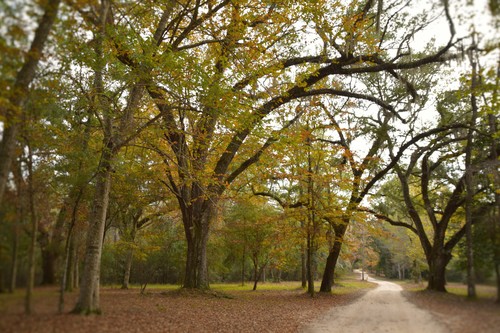 The Spanish Fort real estate market is a paradise for those who love nature and the outdoors. Here is a list of parks that you'll find in this great town….
Historic Blakeley State Park
This 3,800 acre state park is a wonder for those who like to explore located off of Hwy 225. You'll find miles of nature trails for hiking and biking, a 1/4 mile waterfront boardwalk, campsites, picnic areas, and boat tours.
Meaher State Park
Here's another large park with 1,327 acres offering camping, fishing, and loads of trails. It's located off of the causeway with beautiful water views.
5 Rivers Delta Resource Center
This 81 acre complex is one of the gems of Spanish Fort offering educational boat tours, kayak/canoe rentals, sunset cruises and so much more.
The Eastern Shore Trail
Ok, it's not a park this 32 mile trail deserves a mention. The trail offers runners, walkers, and bikers a managed 32 mile trail that runs through Spanish Fort, Daphne, Fairhope, and Point Clear. Enjoy the ultimate in scenic outdoor exercise!
Spanish Fort Kids Park
Located behind City Hall at 30701 Ember Lane, you'll find a large playground facility and a separate area for the little ones. A covered pavilion, picnic areas, and restrooms are also available.
Spirit Park
Spirit Park is a very nice facility located off of Hwy 31 that boasts 8 lighted tennis courts, 3 multi-purpose fields for baseball and softball, walking paths, a covered pavilion, and restrooms.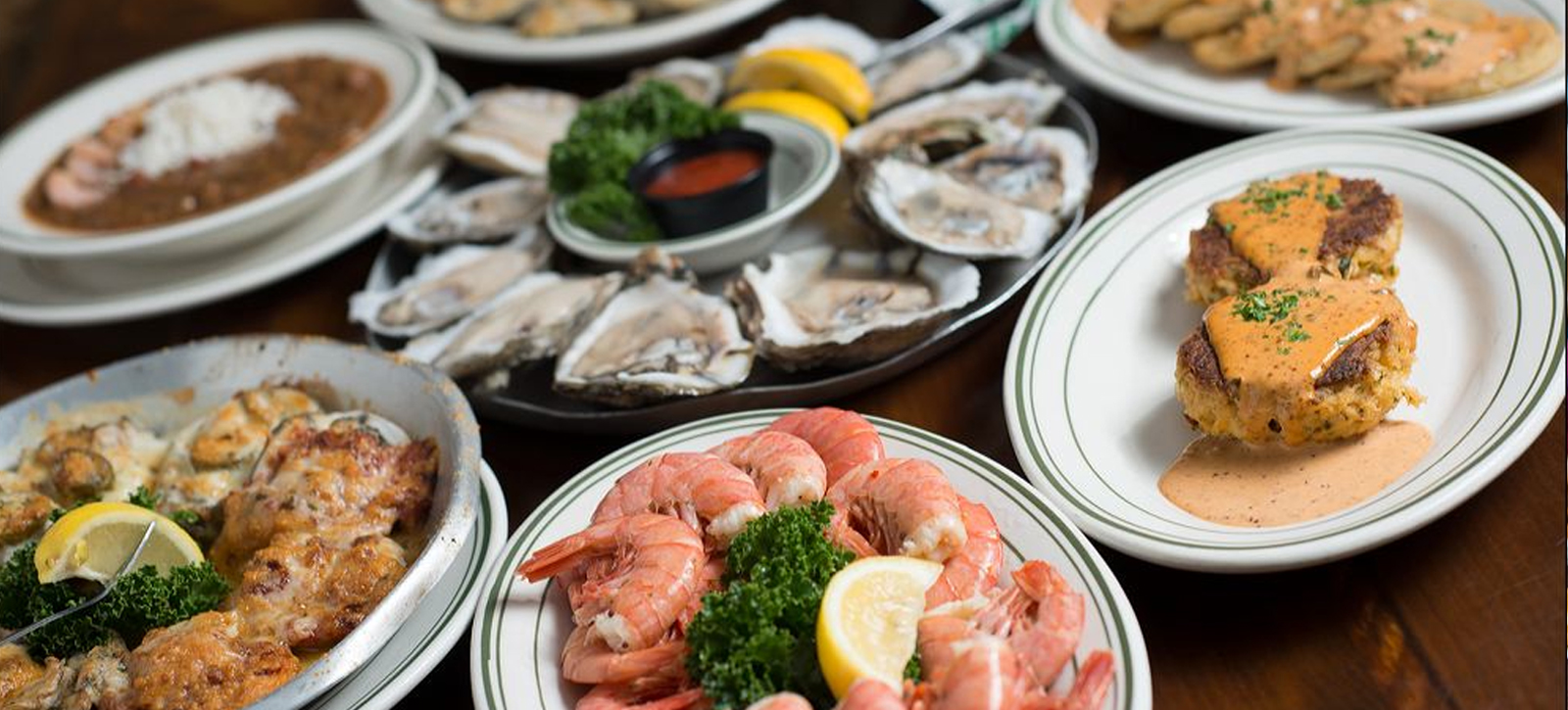 The Spanish Fort real estate market is also a hub for shopping and great places to eat. Many of our great restaurants are located on the Causeway overlooking Mobile Bay. Here are the Top 10 Restaurants in Spanish Fort according to Yelp:
| | | |
| --- | --- | --- |
| Felix's Fish Camp | 1530 Battleship Pkwy | 251-626-6710 |
| BlueGill | 3775 Battleship Pkwy | 251-625-1998 |
| Original Oyster House | 3733 Battleship Pkwy | 251-626-2188 |
| California Dreaming | 30500 Hwy 181 | 251-626-9942 |
| Half Shell Oyster House | Eastern Shore Centre | 251-206-8768 |
| Ralph & Kacoo's | 1595 Battleship Pkwy | 251-626-0045 |
| R & R Seafood | 1477 Battleship Pkwy | 251-621-8183 |
| La Dolce Vita Bistro | 30500 Hwy 181 | 251-929-9333 |
| Cheryls Cafe | 6580 Spanish Fort Blvd | 251-626-2602 |
| Oishi Sushi Bar | 23000 Town Centre Ave | 251-626-8709 |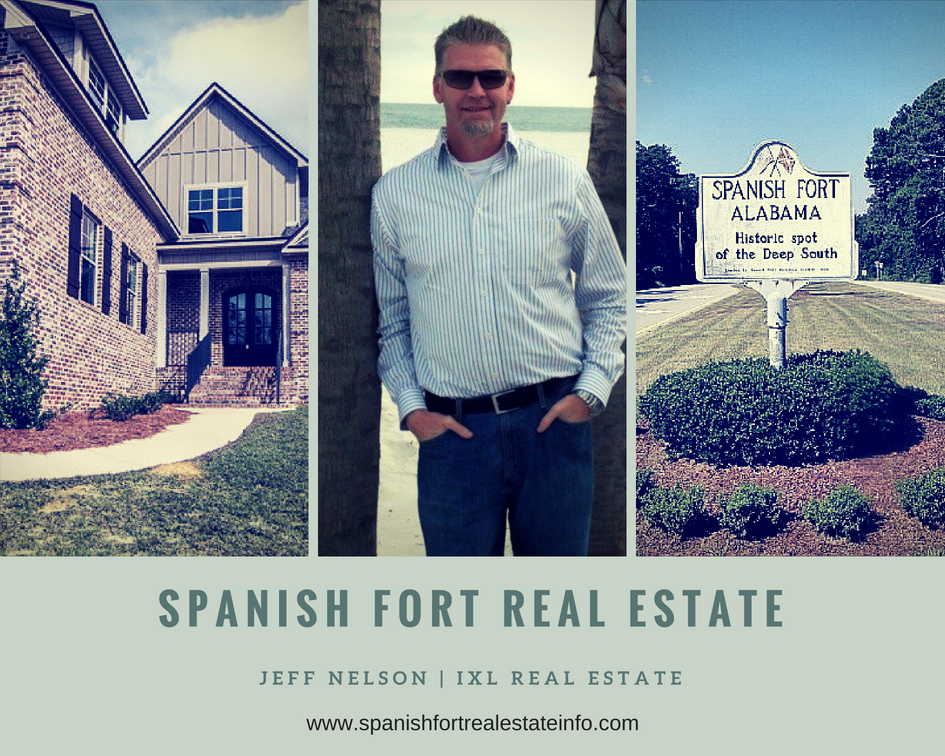 Thank you for taking the time to read this article regarding the Spanish Fort community and real estate market. You may have had some questions answered but quite possibly I've helped you generate some others. Please let me know what you need. If you're buying or selling a home, I'd love to get with you to discuss what you want to accomplish and assist you on your next real estate endeavor.